plan your next North Carolina beach vacation around the last weekend of September in Southport, and you'll be rewarded with a special treat.  On Saturday, Sept. 27, 2014, wooden boats will line the Southport Yacht Basin, along with boat-builders, boat-enthusiasts, booths of nautical art and photography, crafts, model boats, maritime demonstrations, and plenty of fun for the kids. Now in its fifth year, the Southport Wooden Boat Show just keeps getting bigger, both from the number of entries to the size of the admiring crowd.
What's the attraction of a wooden boat?  They're painstakingly built or restored, visually appealing, have beautiful lines, and feel and sound very different on the water than today's boats built of fiberglass and other man-made materials.  And, they all have stories to tell.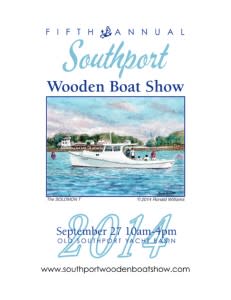 For example, one of the original organizers of the show, Captain Bert Felton, discovered and rescued The Solomon T, a 1938 "Harker's Island"-type boat. This North Carolina-built fishing vessel was lovingly restored by Captain Bert and is now on the North Carolina register of Historic Vessels, one of a vanishing breed along our coast.  This year's Wooden Boat Show poster features the Solomon T.
Southport's fifth-annual Wooden Boat Show also includes seafood! For just $5, buy a ticket to the Seafood Chowder Cook-Off, where you'll receive a 2-oz portion from each of up to ­­­12 entries.  The People's Choice" voting asks tasters to rate the chowder based on good flavor, texture, consistency, blend of spices, aroma, and color.
Also at the 2014 Southport Wooden Boat Show, a 15-foot rowing skiff will be raffled off, a design from a noted naval architect who generously donated the plans. Chesapeake Light Skiff is a very lightweight, slippery piece of wood. Gaining stability from its flat bottom, it will be perfect for inshore fishing under oars, in a rowing race, or for "just messing about." This boat is constructed of marine plywood, all joints glued and glassed with epoxy, then completely encapsulated in three coats of epoxy resin before painting. The result is a very low maintenance craft that with minimal attention should last the lifetime of the raffle winner.
The Southport Wooden Boat Show promotes interest in the art and craft of wooden boat construction, supports efforts to preserve wooden boat construction and skills and celebrates the region's maritime and boatbuilding history. For more information about the event, click here.
During your visit to Southport, enjoy a walking or electric cart tour of the historic architecture, and learn about the town's long reign as a maritime port, its Revolutionary and Civil War forts, the homes of sea captains and blockade runners, and much more.  The North Carolina Maritime Museum of Southport is a must-see. For a listing of all there is to do in Southport, including delicious dining and comfortable accommodations, visit http://www.ncbrunswick.com/islands/Southport.
Southport Wooden Boat Show
Sept. 27, 2014
10:00 a.m. – 4:00 p.m.
Southport Yacht Basin
Free Admission