The time has come to celebrate the one you love, and there's no better place to do so than with a romantic getaway to North Carolina's Brunswick Islands. Few settings can rival the beach when it comes to romance – the soothing sound of the crashing waves, the feeling of soft sand under your feet and the beauty of the ocean's blue waters all come together creating the perfect romantic atmosphere. From cool evenings under a blanket of stars to long walks on spacious beaches, NC's Brunswick Islands offers romance around every corner.
Check out some of the ways you can celebrate Valentine's Day with your sweetheart in NC's Brunswick Islands.
Take a Beach Stroll and Savor the Sunset
There is something incredibly romantic about a sunset, particularly over the ocean while on an intimate beach walk. From fall until spring, visitors of NC's Brunswick Islands can experience a true natural phenomenon. Due to the rotation of the earth and the east/west orientation of the Brunswick Islands, one can watch the sunrise and sunset over the ocean without ever moving their beach chair. Experiencing these unbelievable vistas with your loved one will be sure to have you feeling sparks!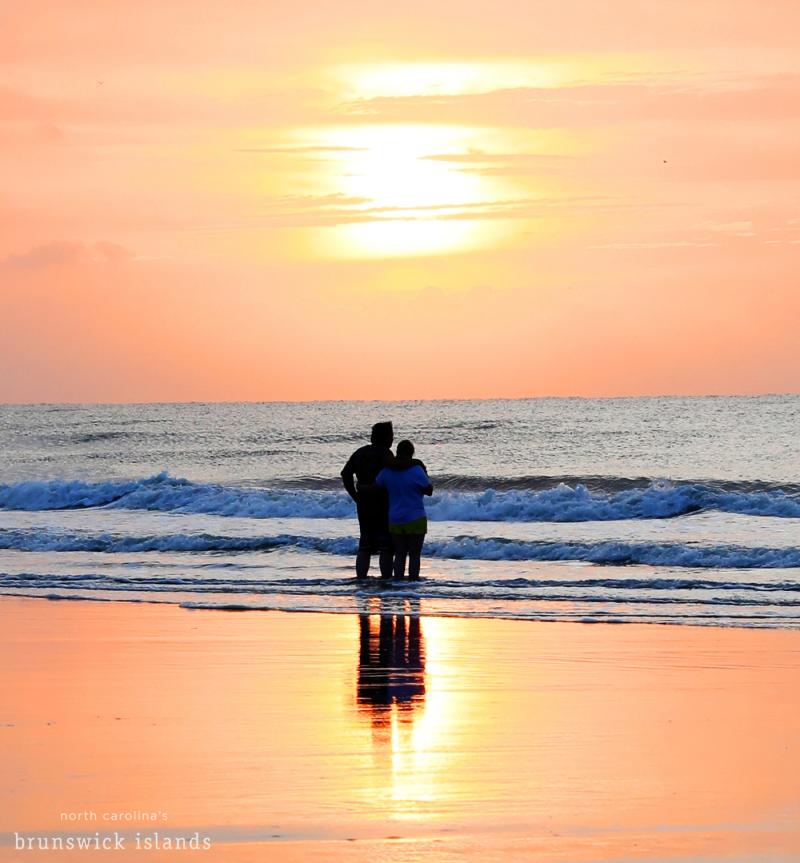 Have a Romantic Picnic
Nothing screams romance more than a cherished picnic on the beach with your sweetheart. Pick up a delicious meal from any of the restaurants located throughout our coastal towns. And to create a truly memorable experience, grab a bottle of wine from the Silver Coast Winery to set the scene for a romantic Valentine's Day.
Get Cozy with Your Sweetheart at a B&B
Few things are more charming and romantic than a stay at a cozy bed and breakfast. Due to the proximity of these B&Bs, guests can take a short stroll to the picturesque coastal community of Southport or a quick drive to one of the beautiful beaches. NC's Brunswick Islands is home to several wonderful B&Bs that will make the perfect accommodation for your romantic getaway.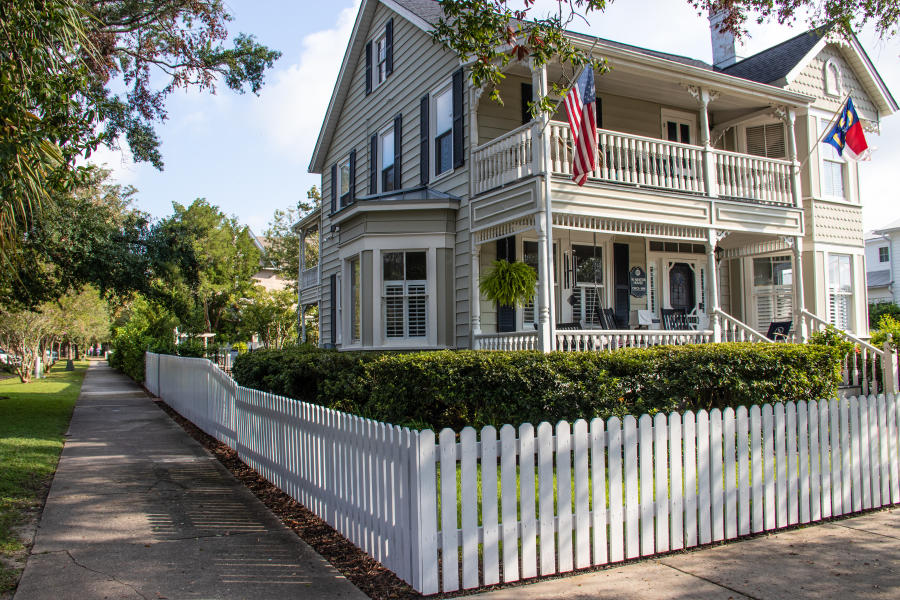 Fly High Over NC's Brunswick Islands
For the couple looking for adventure, hop in a helicopter and get a bird's eye view of the breathtaking beaches and coastal communities of NC's Brunswick Islands! Guests can fly over North Carolina's oldest and newest lighthouse, search for marine life or even take control of the helicopter with the help of a professional flight instructor! Adrenaline pumping helicopter tours are located throughout the Brunswick Islands. 
If that wasn't enough excitement, you and your sweetheart can soar through the treetops on an exhilarating 10-line, three bridge zipline tour at The Swamp Park in Ocean Isle Beach! The Swamp Park also offers a guided ATV tour that is guaranteed to get you both muddy, a 49-element aerial adventure park designed to test your coordination and agility and an informative ecological swamp boat tour through the Shallotte River Swamp! 
Share a Secret at the Kindred Spirit Mailbox
Take a romantic stroll or bike ride to Bird Island in Sunset Beach and discover a secluded little spot with a secret. Tucked away from the public eye is the Kindred Spirit Mailbox. Those who can find this elusive mailbox will find notebooks filled with the personal reflections and thoughts of past visitors from near and far. For a truly unique experience, sit upon the nearby bench on this serene beach and jot down a few thoughts, dreams and wishes together to be read by future travelers.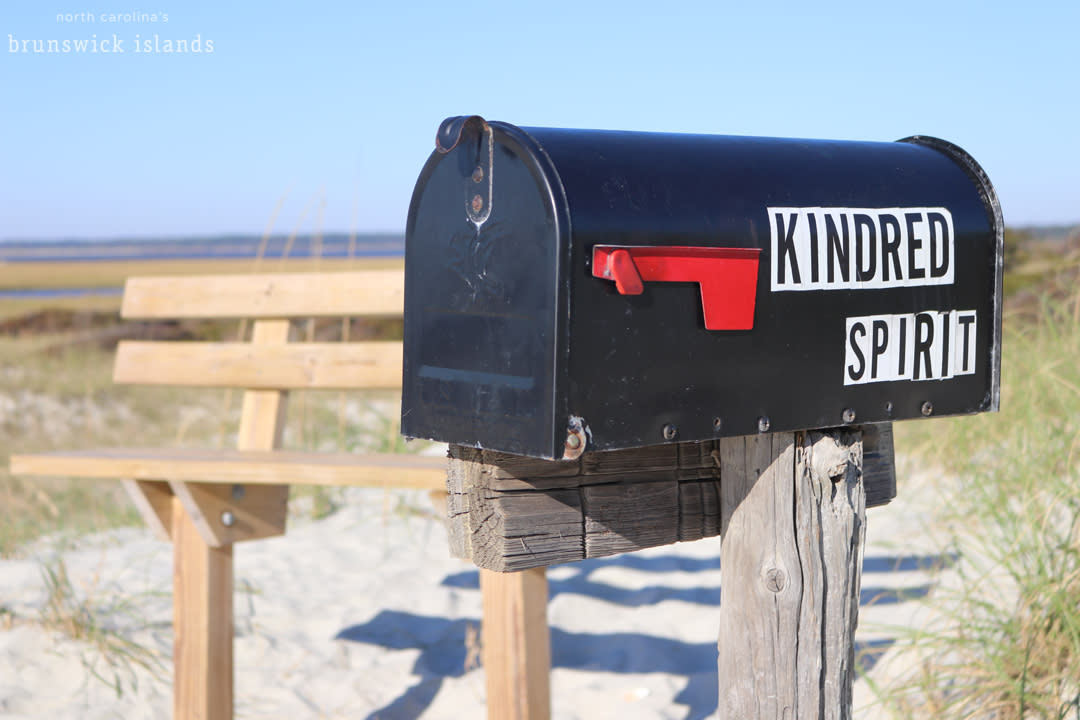 Paddle Under the Moonlight
For a twist on an iconic date idea, relish the romance of the full moon or the sunset over the water as you paddle through salt marsh creeks, black water rivers or the Intracoastal Waterway. You can rent your own equipment through one of our many rental companies or there are many local outfitters that provide guided tours where they handle all the logistics and you and your loved one can just enjoy your time together under the stars.
Swing the Perfect Date
If you are looking to tee up your Valentine's Day, enjoy a game of golf on courses that wind through marshes, maritime forests and other magnificent coastal elements. With more than 30 golf courses, there is a course designed for every skill level in NC's Brunswick Islands. Check out our Golf Directory to find the perfect location and course for you and your special someone.
Enjoy a Romantic Dinner for Two
No getaway would be complete without a romantic dinner for two. The area boasts a variety of waterfront dining options set along the Atlantic Ocean, Cape Fear River, Intracoastal Waterway and more. With an abundance of restaurant choices, NC's Brunswick Islands offers guests a plethora of menu items such as fresh seafood, international cuisine and other local favorites. Not only is the food top notch, but the waterfront views at many area restaurants are impossible to beat!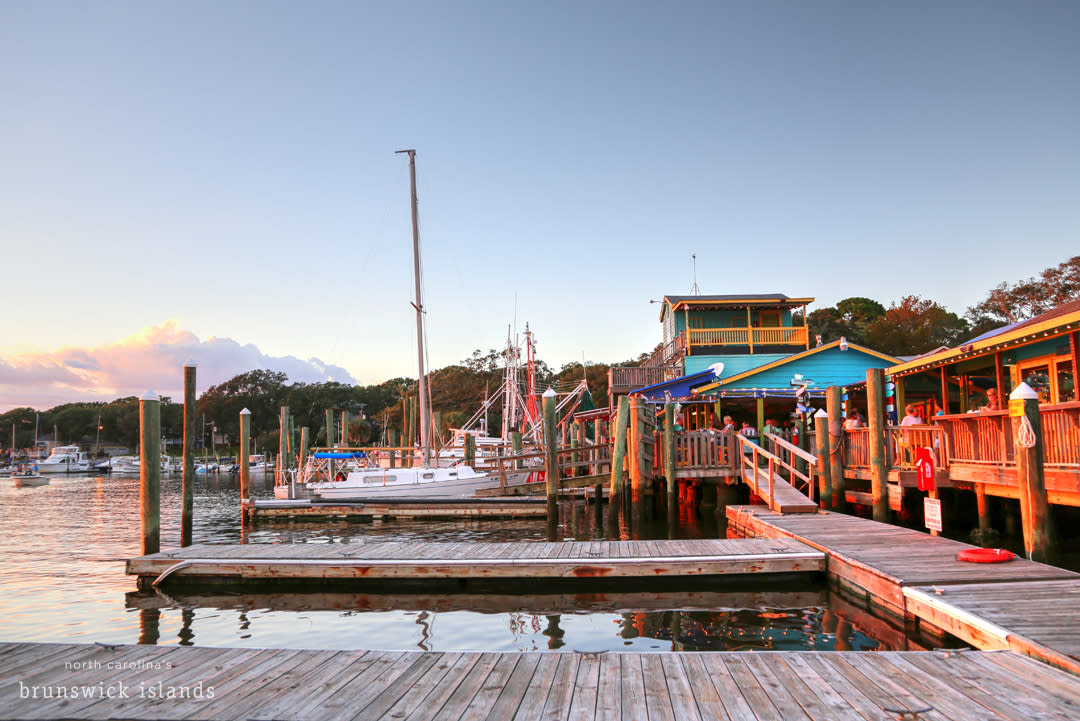 For more ways to plan an unforgettably romantic Valentine's Day getaway to North Carolina's Brunswick Islands, visit www.ncbrunswick.com.