There is no greater feeling or moment than viewing a 250 pound sea turtle glide through the crashing ocean waves. Even better is watching a baby sea turtle make its way toward the huge expanse of the sea. At North Carolina's Brunswick Islands, you can experience both of these magnificent happenings of the loggerhead sea turtle on Bald Head Island, Holden Beach, Sunset Beach, Ocean Isle Beach, Caswell Beach and Oak Island.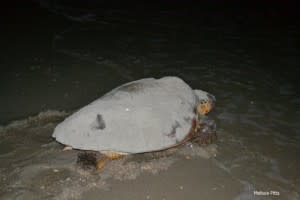 From nest to sea, the loggerhead is an extraordinary and monolithic creature that travels great distances to lay its eggs on our many shores from May to August. The hatchings of these creatures will begin in July and continue into October.  Some of the biggest threats to sea turtles are habitat loss, fishing, poaching, and pollution. Therefore, it is our duty to ensure that these turtles fulfill their long lifespan of 50 years and more by educating the community.
Turtle Talks
With conservation practices in full-effect, you will find that our beaches are home to a multitude of protected nests managed by sea turtle protection organizations. These organizations seek to educate locals and visitors about the importance of keeping these charming sea creatures safe.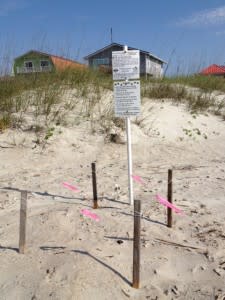 Many groups offer free seminars, tours and information about protecting the loggerhead turtles. In fact, several of our beaches offer free 'Turtle Talks' in order to educate on turtles and provide insight into ways we can help protect this endangered species.
Turtle Talks – Holden Beach Every Wednesday June - August, 7:00 PM Sea Turtle Talk – Sunset Beach Every Sunday June 12 – September 4, 7:00 PM Turtle Talks – Ocean Isle Beach Every Monday May – August, 3:30 PM Turtle Talks – Ocean Isle Beach Every Tuesday May 31 – August 30, 7:00 PM Turtle Talks – Oak Island Every Wednesday June - August, 6:30 PM
Sea turtle protection organization/turtle watch volunteers monitor nests and update  information continuously regarding the status of each nest. The volunteers keep statistics on the number of current nests, known eggs and the total baby turtles that have made it to the ocean. All the turtle watch or sea turtle protection organizations in the Brunswick Islands maintain websites.  Visit the Sunset Beach, Ocean Isle Beach, Holden Beach, Oak Island, Caswell Beach, or Bald Head Island sea turtle programs for more information.
Plan your summer beach vacation around this miraculous turtle celebration as you watch, learn and have fun with your family, friends and of course, the loggerhead sea turtle.