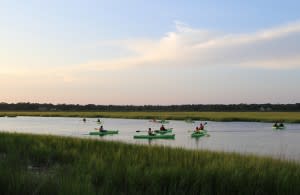 Although the food is plentiful and bathing in the warm sun is tempting, going on vacation doesn't mean sacrificing your health goals for a period of time. North Carolina's Brunswick Islands has an abundance of activities that are educational, family-friendly and perfect for boosting your activity tracker goals at the same time. Below are a few activities if you're looking to increase your step count and even boost your heart rate on your next beach vacation.
A stay here offers a variety of water sports and exhilarating experiences that can get your heart pumping. Go scuba diving with a certified instructor off the Cape Fear's Frying Pan Shoals with Scuba South Diving Company in Southport. Or go on a kayaking adventure with Lighthouse WaterSports, The Adventure Kayak Company or Summertide Adventure Tours. These guided tours will take explorers on an adventure around the blackwater creeks, marshes, Intracoastal Waterway or swamps, while also providing a great arm and shoulder exercise.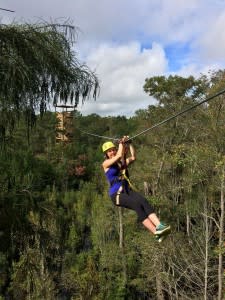 Stoked about surfing but never had the chance to paddle out and pound some waves? Our islands provide visitors with an astounding buffet of aquatic adventures appealing to both beginners and experienced water-goers. Check out three surf schools with programs dedicated to teaching interested patrons of all ages the surfing basics. Not only is surfing a fun activity for beach-goers, it also provides great balance and lower-body strength training.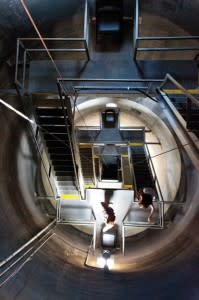 For a new and unique activity at the beach, don't forget to zip into the Shallotte River Swamp Park & Outdoor Center in Ocean Isle Beach. Soar over the Shallotte River Swamp on one of the park's zip lines or climb to the treetops on the Aerial Adventure challenge courses. This unique challenge is guaranteed to increase your step count and get your heart racing!
Activity doesn't always mean you have to hustle and exert yourself. People looking for a more leisurely activity can enjoy many of the rental services available on the islands. Anything from bikes and stand-up paddle boards to beach supplies are available for visitor use. Relish your time and take in the sights at your own pace. If biking or paddling isn't your style, take a relaxing walk on the beach with a friend or significant other, spot a rare species of bird along the Brunswick Islands Birding Trail or take your pup for a jog along the shore.
Whether you're set on admiring the sunrises or sunsets, driving your way through more than 30 championship golf courses or climbing 131 ships' ladders to the Oak Island Lighthouse to see a gorgeous panoramic view, you're sure to end your vacation feeling happy and healthy while increasing your activity tracker goals at the same time.
How many steps did you take on your trip to North Carolina's Brunswick Islands? #BrunswickIslandsFIT