With 567 holes on more than 30 scenic coastal courses, the value and variety awaiting golf groups are just a couple of the reasons that North Carolina's Brunswick Islands is consistently rated as one of the top destinations for group golf.
Also known as North Carolina's Golf Coast, this premier coastal destination has earned its reputation by offering day after day of play on award-wining, championship courses designed by the best names in golf. Palmer, Byrd, Maples, Jones, Cate and Couples designs are all here offering world-class golf and delightfully uncrowded play compared to other golf destinations. The area also offers a wonderful collection of restaurants and easy access to miles of beaches, oceans and waterways for off-the-course activities.
For the perfect group golf vacation, the Brunswick Islands not only delivers the greens (and fairways), the area also has a host of experts who make planning your group golf experience a breeze. Whether for an intimate group of eight or a larger gathering of 100 or more, the area's extensive lodging options, from course-side condominiums to island inns to beach vacation homes, are perfectly suited to golf groups of all sizes.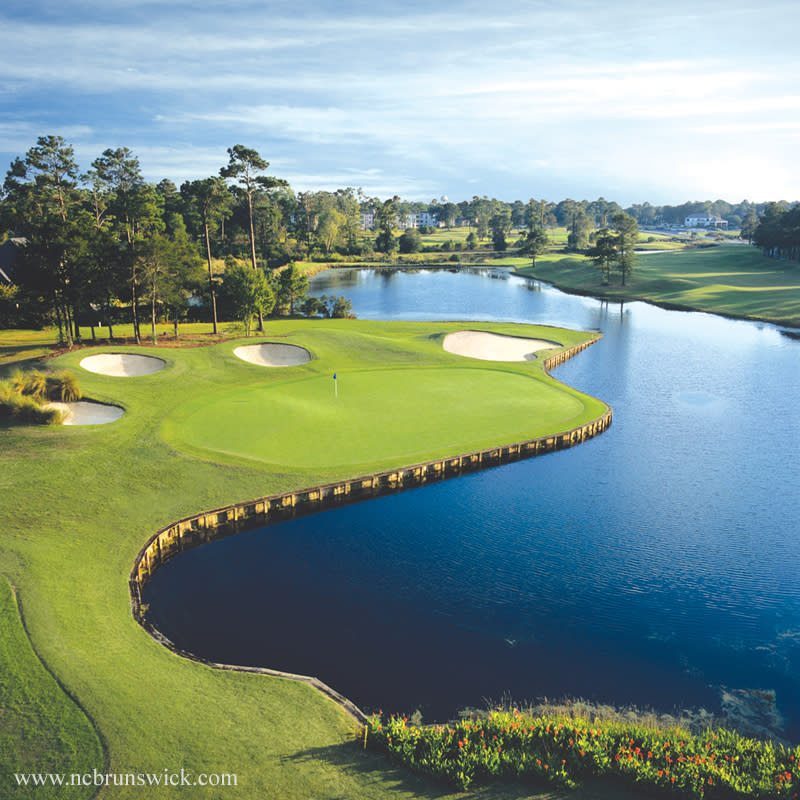 Groups like Jacob's Raiders, who've been coming to NC's Brunswick Islands for golf vacations for 25 years, are now into the next generation as sons play alongside fathers. At The Winds Resort Beach Club on Ocean Isle Beach, they enjoy spacious, cottage-style accommodations and an elaborate set up with their own customized 19th hole, a hospitality suite complete with a logo'd flag, bar, trophy display and a spirited awards ceremony to conclude the trip. The Winds Director of Golf and Corporate Sales, Beth Turner arranges everything in advance including scheduling rounds of golf on the courses of their choice, all accommodation arrangements and on and off-site catering for the group of 48, who stays for four nights.
"Our specialty is golf groups from 12 – 60 people," says Turner. The Winds group golf experience is custom tailored for each group to include accommodations, golf, awards ceremonies and on and off-site catering as desired. The variety of golf and accommodation options are very popular during spring and fall drawing golf groups from Ohio, Virginia, Pennsylvania and New York, as well as many from within North Carolina. The Winds offers packages with dozens of area courses, including Rivers Edge Golf Club, Ocean Ridge Plantation's four "Big Cats" courses, Oyster Bay Golf Links, Sandpiper Bay Golf & Country Club and Sea Trail Resort.
"We've also seen an increase in the number of women's golf groups," Turner mentioned. "Our women's golf groups take full advantage of everything NC's Brunswick Islands offers both on and off the course, adding shopping, a trip to the beach or spa, and dining to their itinerary to round out their golf getaways."
Ocean Ridge Plantation's Bill Long credits the area's popularity to quieter, slower paced courses that are just as good, if not better than, some of the crowded areas nearby. "This is a very unique market for golf," says Long. "To have this many high-caliber courses literally within a 5-10 minute drive in such great condition brings our golf groups from Ohio, Pennsylvania and up and down the east coast back every spring and fall."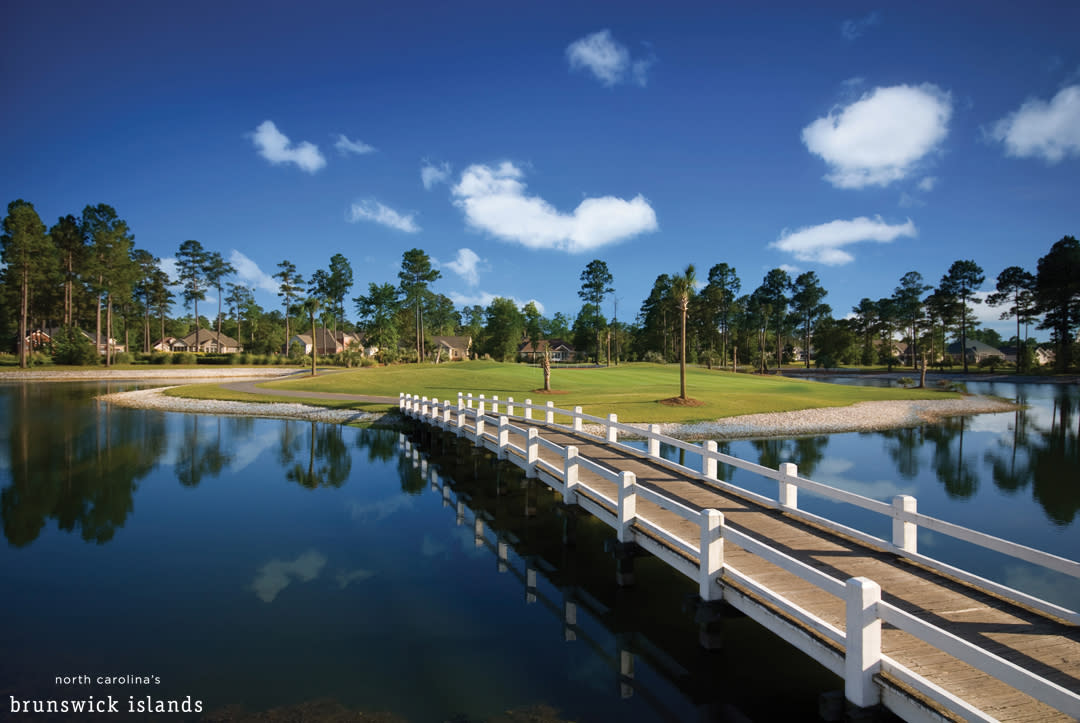 Another popular home-base for golf groups is Brunswick Plantation Resort & Golf in Calabash. The newly renovated one and two-bedroom condominiums are perfect for a golf getaway. The resort's recently opened restaurant and sports bar, Hickory Shaft Bistro, offers indoor and outdoor dining venues and great food and libations amidst an impressive collection of historical golf memorabilia.
"Groups here stay for long weekends, or three to four days, and pack in as much golf as they can," says Scott Thrailkill, Brunswick Plantation's Sales and Marketing Director. Brunswick Plantation is perfect for the serious golfer offering 27 holes of play on site, with nearby courses such as the Thistle Golf Club, The Pearl Golf Links, Farmstead Golf Links, Meadowlands Golf Club and Crow Creek Golf Club, and dozens of others within an easy drive.
Elaine Clemmons, Golf Director with Sloane Realty Vacations has decades of experience pairing groups with the perfect courses and accommodations for a great group golf getaway on Ocean Isle Beach and Sunset Beach.
"We've got several groups who have been coming here for 20 years," says Clemmons, who credits the area's resort and laid-back feel along with the high caliber and variety of courses for bringing the groups back year after year.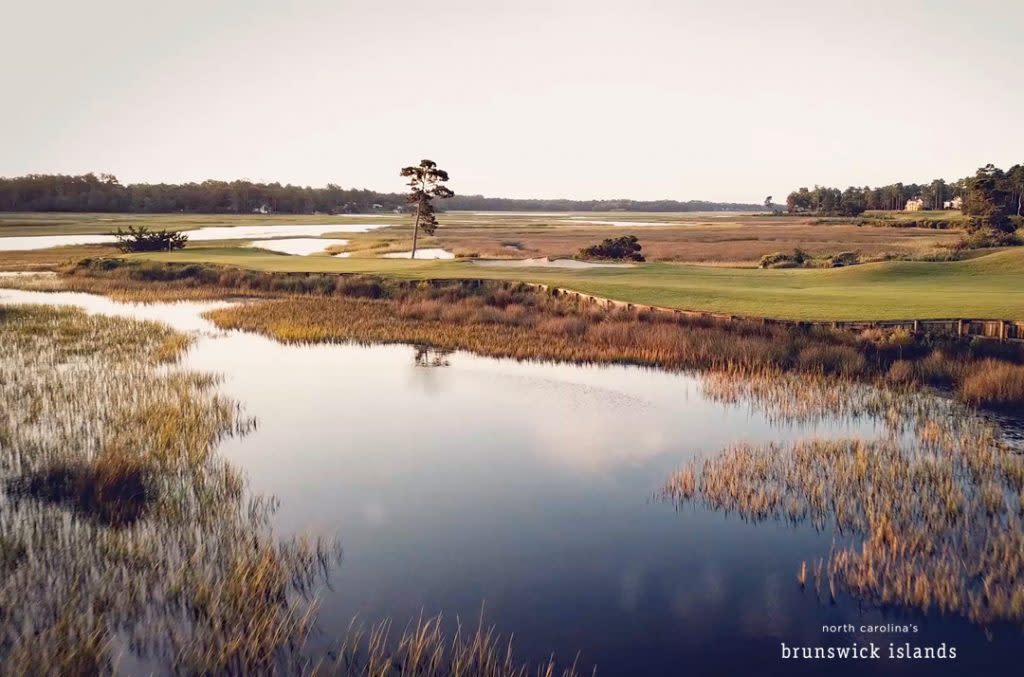 With decades of experience in arranging golf trips, Clemmons shares her expert tips below:
Planning the Ultimate Group Golf Getaway at NC's Brunswick Islands - 10 Tips
Select and book your accommodations first to ensure that you get your preferred travel dates.
Book courses and tee-times as soon as dates are confirmed.
Work with lodging partners to coordinate catered meals and dinners in advance; many lodging and vacation rental companies work with several caterers and are happy to assist in creating a memorable event.
Plan a mix of on-site meals and dinner events at area restaurants to take in a taste of the coast and see a bit of the area.
Designate one group member to be in charge of scoring and awards.
Reserve an extra condominium for the hospitality suite and stock with water, beverages, snacks, etc.
Don't forget gift baskets and awards.
Most importantly, get a great golf group name! Monikers like Mulligan's Island, Weapons of Grass Destruction or Complete and Putter Madness, set the tone for a great getaway!
Schedule in some time to explore the area – a day at the beach, a fishing charter, ATV tour, and more are available in NC's Brunswick Islands.
Leave planning to the experts so you can concentrate on having fun and focusing on the birdies!
Whether your group is driving or flying, North Carolina's Brunswick Island's central east coast location makes it a convenient golf destination for people traveling from across the United States. The area is accessible from both the Wilmington International Airport and the Myrtle Beach International Airport.
For information on these and other Brunswick Islands golf package providers, visit www.ncbrunswick.com/Golf_Packages or download a copy of the Brunswick Islands Golf Guide for all the information you need to plan your next golf getaway!