during the fall and winter months in North Carolina's Brunswick Islands, there is a sense of peacefulness perhaps not common on any other coast. Maybe it's the sunrises and sunsets over the ocean or maybe it's the feeling that you have the beach all to yourself.  Whatever the cause, there's always an array of activities available in North Carolina's Brunswick Islands for those that prefer the quiet subtleties of the beach in the fall and winter.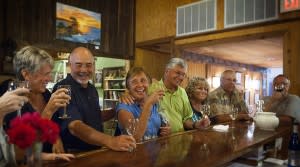 Located near Ocean Isle Beach is something unexpected to most visitors – an award-winning winery.  Silver Coast Winery exhibits more than 300 local and international medals and produces wine made from regionally-grown grapes. Wine-maker Dana Keeler models these unique wines after traditional, classic European styles, and has more than 35 years of wine making experience, having worked and consulted in Virginia, North and South Carolina, and upstate New York's wine region.
Silver Coast Winery offers daily tours and tastings perfect for a girls' getaway or a romantic couples retreat. Here, you can swirl, sip and savor Cabernets, Chardonnay, Tourigas, Merlots and Viogniers, just to name a few. Silver Coast Winery offers at least 14 different wines on their tasting list, not counting the ones that are so popular they're sold out. The favorite and current best-seller is the Seyval Blanc, a refreshing white wine with a fruity finish.
When not eng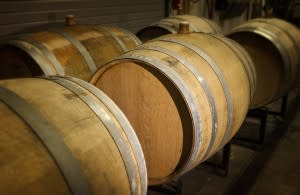 aged in a laid-back wine lesson from the gracious staff in the tasting room, guests can browse the gift shop, eclectic art gallery and gardens while relaxing with their favorite glass of wine. The Barrel Room with its majestic waterfall offers a unique setting for any wedding, special meeting or event.
What sets Silver Coast Winery apart, aside from its winemaker (who won't brag on himself, so we have to do it for him), is the friendliness and hospitality offered not only to highly knowledgeable oenophiles, but to everyone. If you're a newbie to the world of wines, this is a great place to start. If you're a discriminating wine-lover, prepare to be impressed.
"Winemaking is an applied science in an artistic way, and it comes from the heart as well as the taste buds." – Dana Keeler, Silver Coast Winery wine-maker.