Temperatures are heating up and there is no better place to cool down and make a splash than North Carolina's Brunswick Islands. Boasting 45 miles of pristine beaches as well as beautiful marshes, creeks and estuaries along the Intracoastal Waterway, the Brunswick Islands beckons visitors to kayak, paddle, surf and boat their way to an unforgettable vacation experience. With so many ways to suit up and explore, aquatic adventure seekers will find getting on board with the Brunswick Islands is a breeze!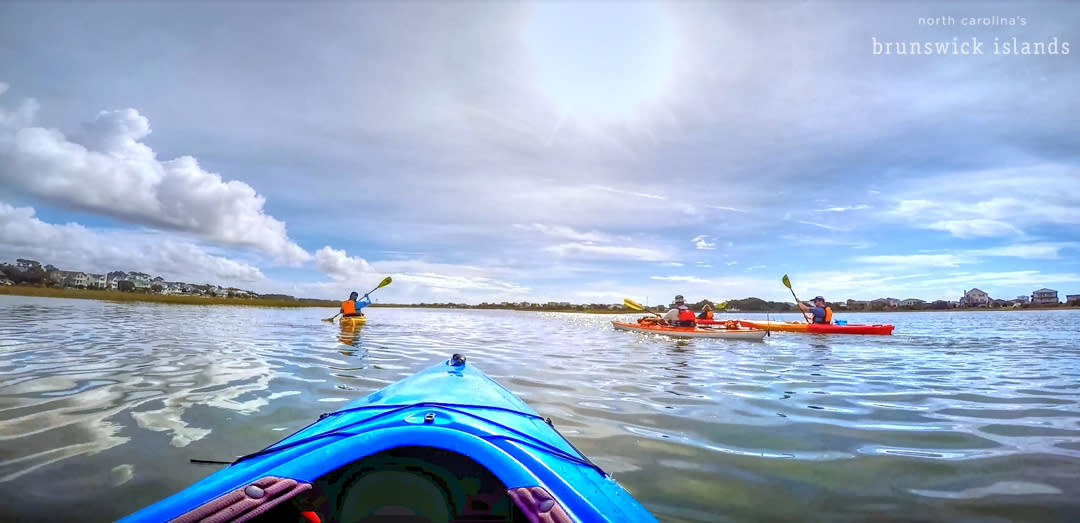 Kayak
Experienced and amateur kayakers alike will revel in the incredible opportunities for sightseeing and adventure in North Carolina's Brunswick Islands. While the crashing waves of our beautiful beaches draw guests year after year, the miles of salt marsh creeks and rivers as well as the Intercoastal Waterway await exploration. Individual kayak rentals and guided tours are available to help visitors gear up and get on the water. Whether chasing the colorful sunset, watching for native wildlife, stargazing or just looking to get active, kayaking through the Brunswick Islands promises to be a unique and unforgettable aquatic experience.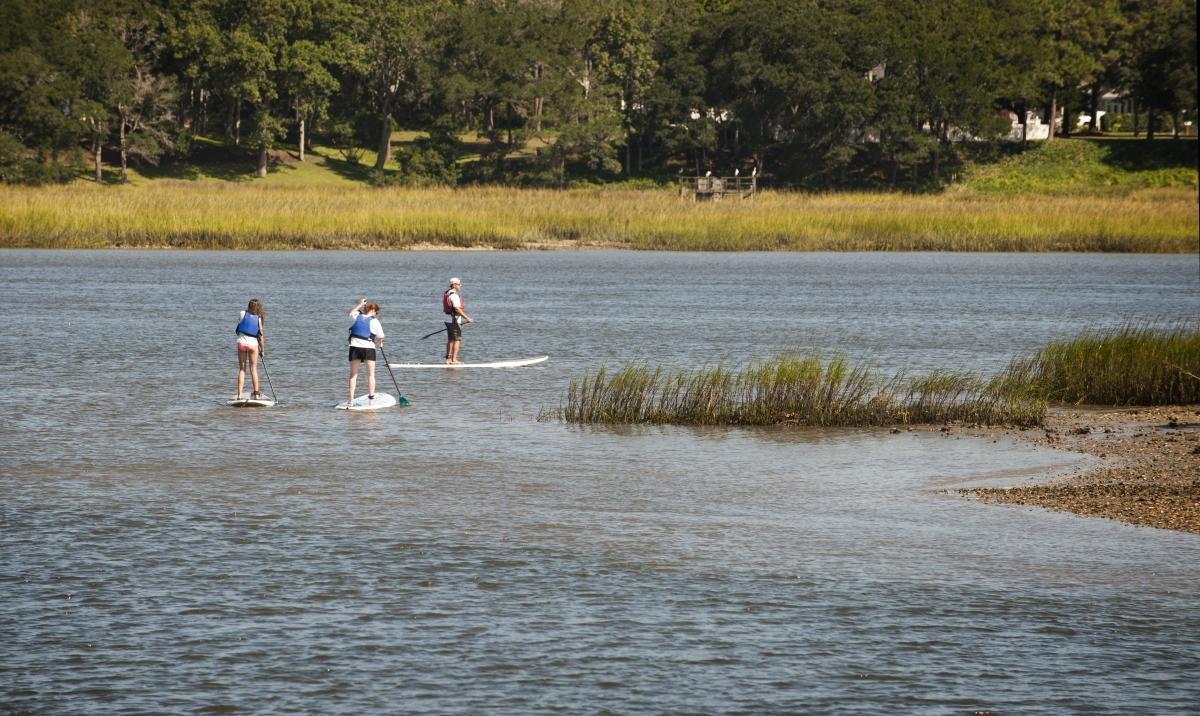 Paddle
Visitors can put balance and coordination to the test by trying stand-up paddle boarding (SUP). The smooth channels of the Intracoastal Waterway, creeks and island canals are perfect for renting a board and getting out on the water. Stand up and paddle your way through stunning coastal North Carolina scenery, or kick things up a notch by trying a hand at SUP yoga. The Carolina School of Surf offers SUP yoga classes for beginners, intermediate and advanced athletes.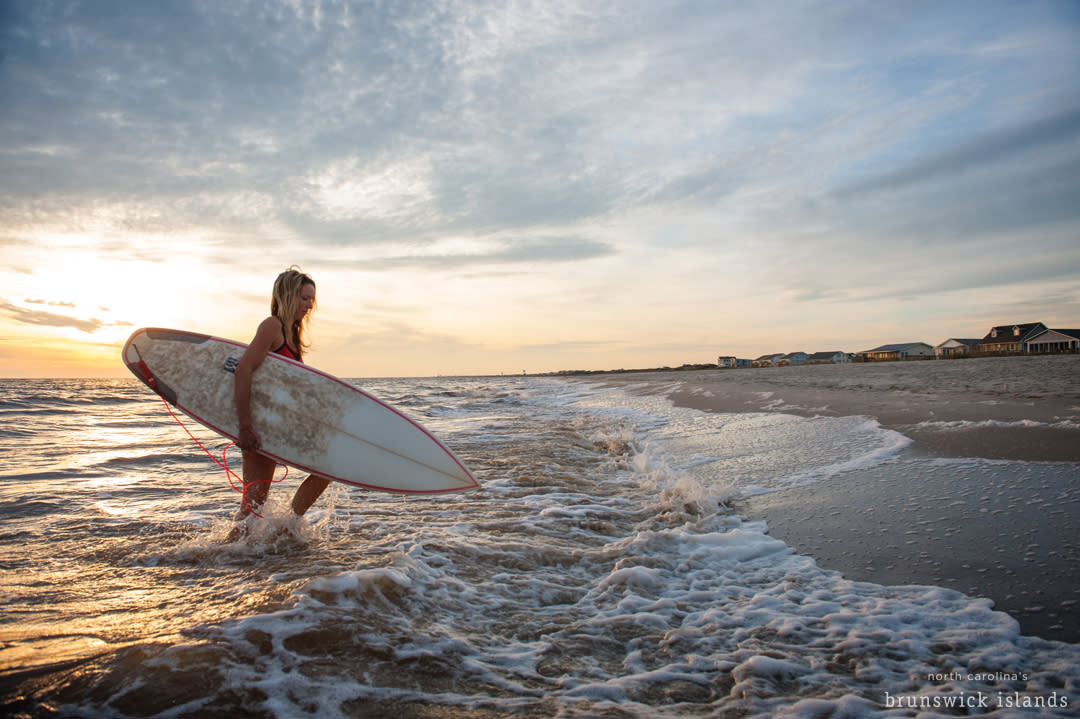 Surf
Those with a need for speed and seeking a faster-paced adventure are welcome to head straight into the surf with their board to catch a wave and show off their skills. Never tried surfing? Not a problem! Several local outfitters offer surf lessons suited for all ages and skill levels. The combination of our gentle sloping beaches allowing for waves to break softly and the relatively smaller waves seen in the area make the Brunswick Islands the perfect location to get on a surf board and learn a new skill.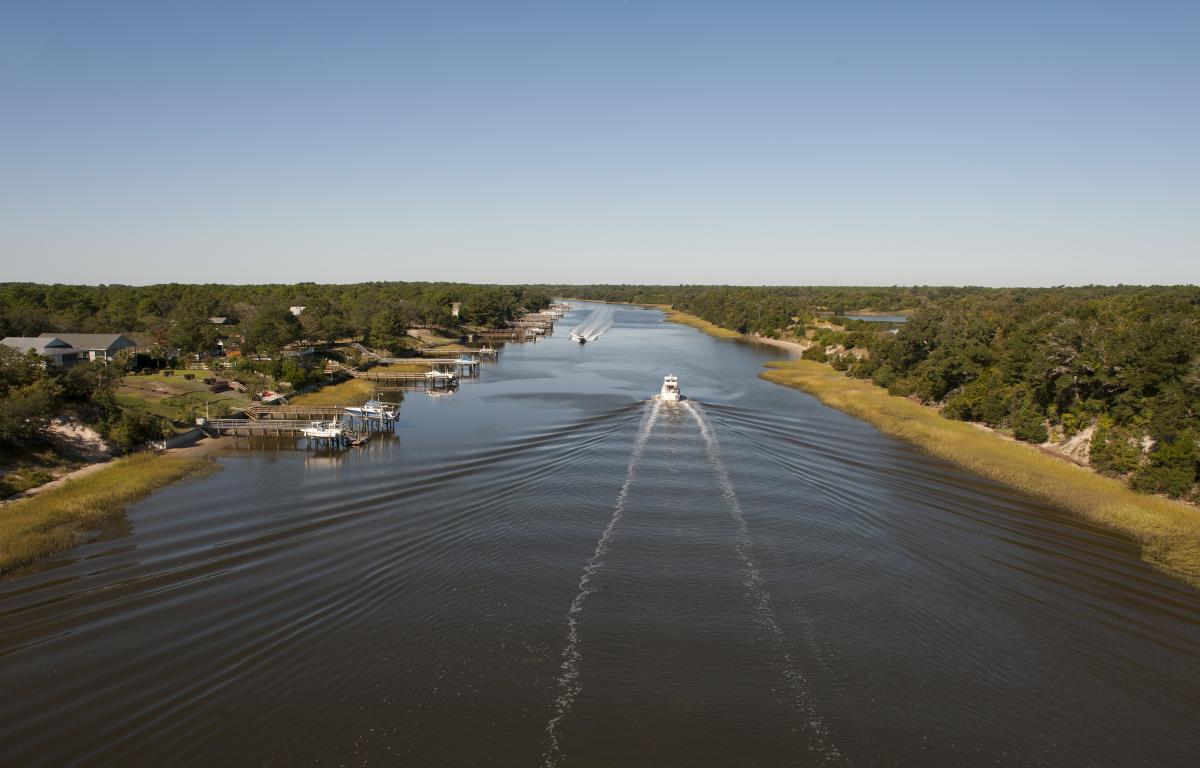 Boat
The peaceful and spectacular Brunswick Island waterways can also be traveled by boat. Local charters and water taxis are available for visitors looking for a relaxing guided aquatic excursion. Fishermen both experienced and new will find many fishing charter options available. Additionally, visitors with their own boat, kayak or paddleboard can find free public ramps and launch sites throughout the Brunswick Islands for easy access to all the wonderful waterways waiting to be discovered.
North Carolina's Brunswick Islands is home to a number of expert adventure outfitters that can provide equipment, training and guide services for your next aquatic adventure. Get on board and discover just how many ways you can explore the tranquil coastal waters during your next visit to the Brunswick Islands.
For more information on attractions and activities at North Carolina's Brunswick Islands, please visit www.NCBrunswick.com.