for a fishing experience that doesn't involve braving the high seas, pier fishing on one of North Carolina's Brunswick Islands' piers could be the answer to your desire to reel in a big catch. As the season starts to transition from summer to fall, the scaly swimmers that grace the waters around the barrier islands change as well with red drum, sea trout, mackerel and more.
Take a trip over to historic Southport to experience the quaint Southport Pier near the mouth of the Cape Fear River. This handicapped-accessible pier is a public facility and usage is free for all. Amenities include benches, a gazebo, swings and even ice cream during certain days of the year. Here you can hook a fish or even bird watch as the site is featured on the NC Birding Trail.
Families, competitive fisherman or amateur anglers can line up along the Ocean Crest Pier on Oak Island and reel in a king mackerel and many other species while enjoying a community live bait tank, an onsite weather station for optimal wind speed and air/water temperatures and a full-service restaurant adjacent to the pier.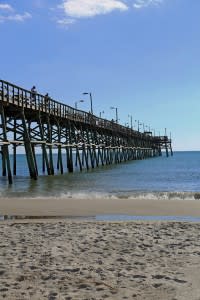 Also located on Oak Island is the Oak Island Pier, formerly known as the Yaupon Pier.  The pier is currently under reconstruction and should reopen in Spring of 2019. The pierhouse and restaurant are also being remodeled.
The pier on Holden Beach offers a great perch to reel in your prize fish from. Selling daily, seasonal and three-day fishing permits and live bait, Holden Beach Pier is the place to be this fall. If you'd rather be a spectator to the sport, you can do so here for just $1.
Just down the way on Ocean Isle Beach, the Ocean Isle Pier offers equipment rentals and season pass sales along with ice cream, drinks, fishing bait and tackle and rods. Fishing fees are $9 per rod. Adult spectators are $1 and the fee is 50 cents for children under the age of 6.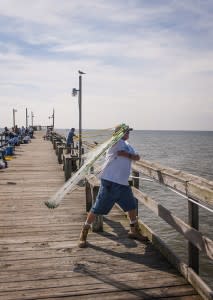 Calling all king fishermen – the Sunset Beach Pier is waiting for you! This 900-foot pier on Sunset Beach is a hot spot and includes top-notch amenities: a double sink at the cleaning table, a snack bar with breakfast and hot sandwiches, a game room and even an ATM in the air-conditioned pier house. Inside, you can purchase bait and rent a rod. Three-day, five-day and seasonal fishing passes are available and include parking.
In North Carolina's Brunswick Islands, there are prized landmark fishing piers on four of the five islands. All are equipped with handicapped access, food, bait, tackle and rentals. And most importantly, residents and visitors will always be there to offer advice and encouragement for novice and expert fishermen alike.  So be sure to make pier fishing part of your next fishing or family beach vacation to North Carolina's Brunswick Islands.
Updated August 10, 2018 to include information on reconstruction of the Oak Island Pier.