no need to resort to tall fish tales when fishing North Carolina's Brunswick Islands. Locals and visitors agree that the barrier islands between Wilmington and Myrtle Beach, which make up North Carolina's Brunswick Islands, are home to some of the best fishing spots on the eastern seaboard.  The catch is abundant, from Amberjack to barracuda, to tuna to wahoo. So is the variety of fishing experiences and techniques to catch them!
Tournament Fishing
Here, the fishing is so "fin-tastic" that the area hosts more than a dozen competitive tournaments for all ages. If you enjoy competitive king mackerel fishing, enter The U.S. Open King Mackerel Tournament, Oct 2 -Oct 4, 2014, for a tournament full of entertainment, food, fun, and of course, fish. The tournament is held in Southport and the public is encouraged to come and watch this premier fishing event.
Kids can enjoy fishing tournaments as well. Captain Charlie's Kid's Fishing Tournament will be held Oct 5, 2014 from 10 a.m. – 12 p.m. free of charge. Kids (up to age 15) will get a chance to win a variety of prizes donated by merchants and the first 100 kids even receive a free t-shirt. Best of all, this is a catch-and-release tournament — an environmental lesson for kids.
Pier Fishing
You will find plenty of elbow room for surf and pier fishing with residents and visitors around to offer free, friendly advice and encouragement. There are treasured landmark fishing piers on four of the five barrier islands of North Carolina's Brunswick Islands, with handicap access and concessions for food, bait, tackle and even beach rentals. Check out these piers in North Carolina's Brunswick Islands for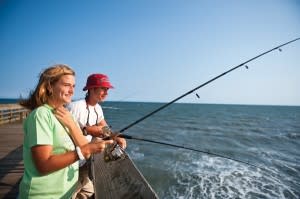 more information:
Gulf Stream, Bottom Fishing Charters, and Kayak Fishing
For those that desire big trophy fish and delicious game species, there's always an option to fish the Gulf Stream this winter. The North Carolina coast is graced with moderate temperatures in the winter influenced by the warm waters of the Gulf Stream. Here, fish swim the Gulf Stream much like an express lane, gobbling up its rich supply of bait fish before being hooked by an angler experiencing the adrenaline rush of a lifetime.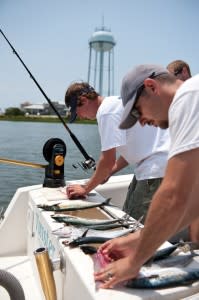 Closer to shore, half-day fishing charters are the most popular fishing trip for family groups, enjoyed by children, grandparents, bird watchers, sunbathers and sightseers. First-time anglers, as well as more experienced fishermen can catch black sea bass, Spanish mackerel, whiting, flounder and other species.
For a low-to-the-water, bird and wildlife experience, try guided kayak fishing. From April to November, gliding through salt marsh creeks, black water rivers, and coastal bays, visitors can get up close without spooking the trout, flounder and redfish commonly caught here. While casting, you will see blue and green heron, otters and turtles might glide almost close enough to touch. Around the bend one might glimpse a surprised female deer with her fawn, or a brown pelican dive-bombing for his own tasty dinner.
The surf's always up for fishing in and around Sunset Beach, Ocean Isle Beach, Holden Beach, Oak Island, Caswell Beach and Bald Head Island. For a list of what's biting, when and where, please visit here. For more information on fishing permits, piers and a full list of charters, please visit here.  For a list of marinas and public boat launches visit here.