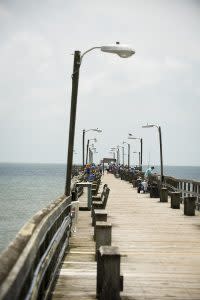 It's almost fall, which means cooler weather and water temperatures, and one of the best seasons for fishing is here again! In the Brunswick Islands, the fish are abundant, and all levels of anglers and fisherman can gear up to go after their big catch. With several ways to fish, the Brunswick Islands offer the best methods and top areas to catch fresh seafood this fall.
If you're looking for beautiful scenery without needing a boat, pier fishing is for you. The Brunswick Islands has five ocean piers to choose from, all equipped with concessions, handicap access, bait, tackle and rentals. Pier fishermen can expect to catch red drum, sea trout, mackerel and more.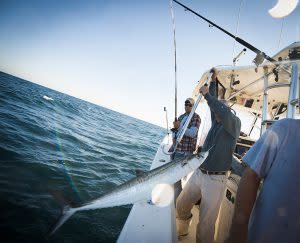 For the more adventurous fisherman, fishing charters are the way to go. Fishing charters are great for family trips or even a get together with old friends. Take a charter out to the Gulf Stream where the warm waters make for an eventful day of fishing with possibilities of catching tuna, wahoo, mahi-mahi, giant sea bass, king mackerel and more. Charters run both half day and full day trips, or if you are a truly dedicated fisherman, you can take a 24-hour immersion trip on a bunkhouse-fitted charter.
For bird and other wildlife spotting, kayak fishing may be up your alley. While kayaking through salt marsh creeks, black water rivers and coastal bays, you will be able to catch trout and flounder while enjoying the Brunswick Islands' pristine nature. Surf fishing is also a great alternative for a casual day on the shore.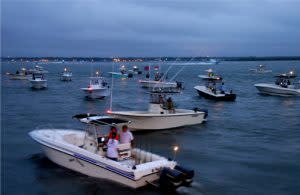 Solidifying the Brunswick Islands as a hotspot for fishing, the area is home to one of the state's oldest tournaments, the U.S. Open King Mackerel Tournament, which will be held September 29 – October 1, 2016 in Southport. The competition attracts over 400 boats and welcomes all ages, as well as spectators when the competitors bring in their catches.
The five ocean fishing piers and commercial fishing charters provide blanket fishing licenses but, if you are fishing in another setting, don't forget your fishing license! For more information on saltwater licenses, please visit  http://www.ncdmf.net/, and for freshwater licenses, visit http://www.ncwildlife.org/. The Brunswick Islands feature several free public ramps for launching a boat, as well as plenty of parking spaces for your cars and trailers. Information on boat rentals can be found here.
Join us in the Brunswick Islands for your next fishing excursion and see why our waters are an angler's paradise. For more information about fishing in the Brunswick Islands, visit www.ncbrunswick.com.