this holiday season, North Carolina's Brunswick Islands invites you to grab your family, hop in the car and pop in that Beach Boys Christmas album on your way to a coastal yuletide getaway. The holidays may be known for snow, sweaters and stockings, but that doesn't mean your season can't also be filled with sun, surf and sand.
While celebrating Christmas around palm trees, the ocean, and aquatic sea life might be unusual for many visitors, the locals of our islands know how to get into the holiday spirit even without the presence of snow. Let the locals be your guide as they bring on the Christmas cheer with an abundance of holiday festivities. Each of our islands and towns ring in the season with its own unique set of celebrations.
Oak Island awa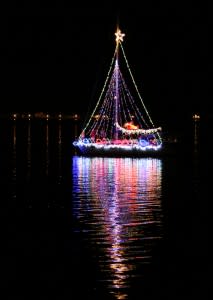 its the arrival of Little Saint Nick with the annual Christmas by the Sea Parade, held on the first Saturday in December. The parade travels 2.4 miles from Oak Island Town Hall to McGlamery Street. For a truly maritime take on a Christmas parade, the Ocean Isle Beach Flotilla and Southport Christmas Flotilla illuminate the Intracoastal Waterway and Cape Fear River with a parade of beautifully decorated sailboats and power boats of all shapes and sizes.
Historic Downtown Southport spreads the spirit of the season with Winterfest, a four-day Christmas celebration with a uniquely southern charm. Winterfest features a craft festival along with other exciting holiday events.
With so many events to choose from, North Carolina's Brunswick Islands caters to all ages and beckons you to escape the temptations of typical mainland festivities. This winter, shake up the season and make the coast a must-visit holiday destination!
For a complete list of our Christmas parades, tree lightings and other festivities, please visit the calendar of events.  And if you don't make it to the Brunswick Islands for Christmas, it's also a great place to unwind after the holidays and to ring in the new year!