Among the benefits of playing golf are time on the course with your family and being at one with nature on the 30 plus beautiful and scenic courses that have earned North Carolina's Brunswick Islands the nickname of North Carolina's Golf Coast.
During the summer months, NC's Brunswick Islands offers even more reasons to hit the links with your family as many of our award-winning courses offer special packages, Family Tees, and free golf for Juniors encouraging families to add a bit of swing time to their beach vacation.
Check out the below courses and more on our Golf Page for Junior's Play Free with paying adult and other summer promotions.
At Rivers Edge Golf Club in Shallotte, General Manager Jason Monahan has created two new programs to appeal to beach-goers looking for an afternoon out of the sun and on the greens.  The new Four-Hole Loop features holes 1 - 4 and can be played in about one hour.  Offered daily after 1 p.m., it is just $15 per golfer and includes free club rentals, use of driving range, a hot dog and a soda.   Says Jason, "It is great for new golfers or those just short on time who want to get out and play a couple of holes."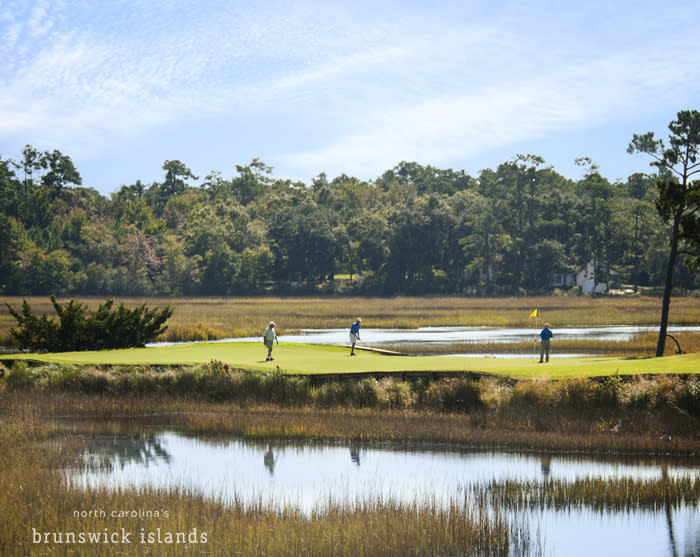 Rivers Edge is also one of many courses offering free golf for Juniors age 16 and under when playing with a paying adult.  Good any day or time, the new "Shark Experience Golf Carts" add an element of technology to the game with music, GPS and the ability to stream your favorite college and pro football games and other sports and golf events.  Indulge in the love/hate relationship of the signature #9 hole and peninsula green affectionately known as "Arnie's Revenge."  Rivers Edge is the only Arnold Palmer design on the NC coast and is revered for its memorable play along the Shallotte River.
Designed by Rick Robbins, Compass Point Golf Club in Leland is another very family-friendly course.  Gaining a reputation for play that is both challenging and fun, the unique design features a set of "Family Tees" that are great for Juniors. These tees allow every hole to be played as a Par 3 and encourage the social aspect of golf.  Juniors age 10 and under play free with paying adult and age 11 - 15 are $25 with paying adult.
In Ocean Isle Beach, Juniors 16 and under also enjoy complimentary play with a paying adult at Ocean Ridge Plantation, where Bill Long, director of purchasing, marketing and facilities, encourages play on all four of the nationally recognized "Big Cat" courses: Lion's Paw, Panther's Run, Tiger's Eye and Leopard's Chase.  "This end of the beach is less crowded, quieter and slower paced, yet features some of the best courses in the state," says Long, who should know as the Big Cat courses, designed by Willard Byrd and Tim Cate, consistently rank among Golf Digest's "Places to Play," GOLF magazine's "Top Courses You can Play", and among Golf Digest's "Top 100 Public Golf Courses in America."   Want more golf?  Take advantage of the popular "Play 3 courses, get Tiger's Eye Free" package.
Continuing along the NC Golf Coast toward Sunset Beach are Sandpiper Bay Golf & Country Club and Sea Trail Golf Club.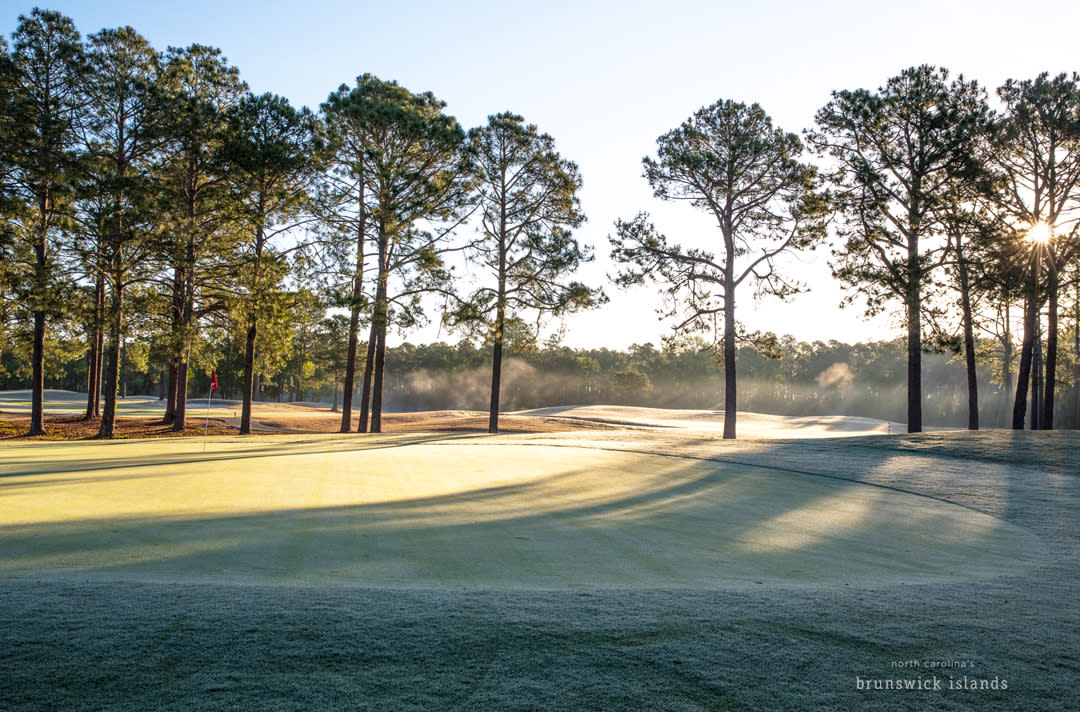 Sandpiper Bay Golf is another excellent option for family play. Named, "Golf Director's Course of the Year," this Dan Maples course welcomes Juniors 16 and under to play free in the afternoons with a paying adult on this course, which Pro Brett Thomaswick says is in its best condition ever this year.  2018 saw new greens on the Bay nine holes, new sod, new landscaping along the lake banks and 100 new carts!
Also just over the bridge on the inland side of Sunset Beach, Sea Trail Golf Club welcomes Juniors 15 and under to play free with a paying adult.  Three award-winning courses by Jones, Byrd and Maples offer challenging play amongst tree-lined fairways.  Live oaks, towering pines and water hazards bring the coastal environment into play for a memorable outing for all levels.
Moving toward Calabash is Brunswick Plantation, where Director of Sales and Marketing, Scott Thrailkill invites folks to bring the whole family out to play together. The Willard Byrd/Clyde Johnston 27-hole design is family-friendly as is the 17 and under Juniors play free with paying adult summer promotion.  Look for great conditions on the course as fairways and tee boxes were over-seeded and the Ultra-dwarf Bermuda greens are great year-round.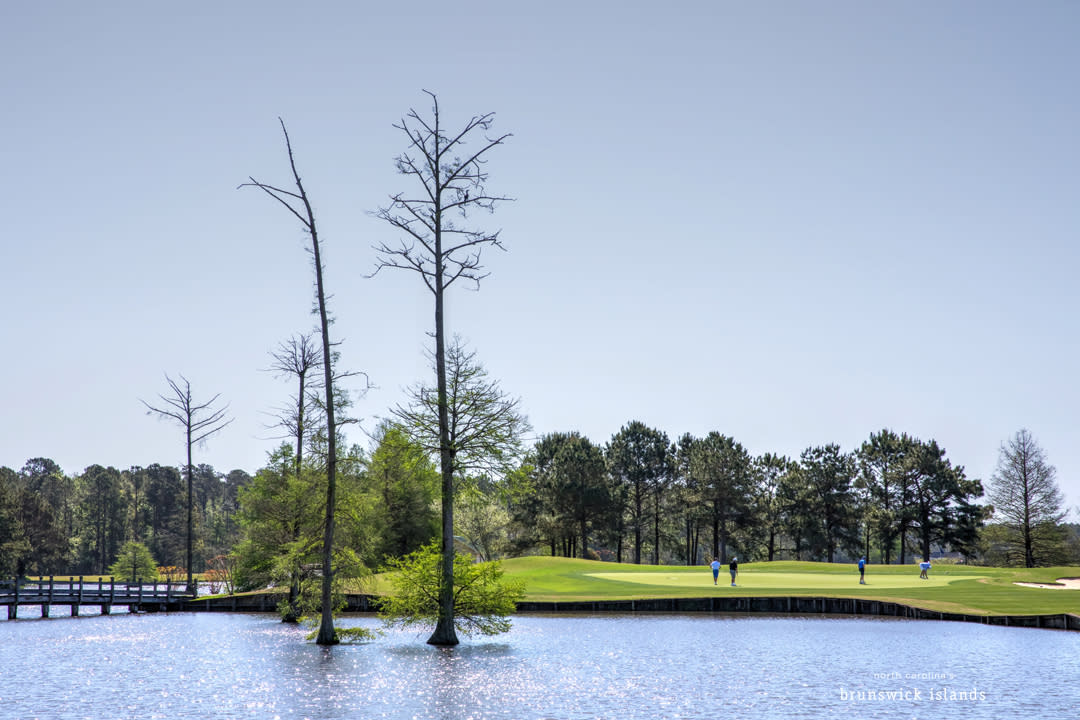 A Rick Robbins design, Crow Creek Golf Club in Calabash is an immaculately conditioned course. "Families can practice and work on their game at the full-size driving range, chipping and putting green, then hit the links with Juniors 16 and under playing free with a paying adult in the afternoons from June through September," says Director of Golf Mike Benson.
Just as every one of our beaches is known for its own unique character, the 30 different courses and 567 holes of golfing treasure in NC Brunswick Islands each offer a distinctive experience for memorable play.
Stay up to date on the latest offerings from all of our golf courses at www.ncbrunswickgolf.com.