september and October in North Carolina's Brunswick Islands are packed with events attracting everyone from music lovers to runners to anglers to foodies to festival goers. Adults and children alike can enjoy a variety of attractions including fishing tournaments, movie nights on the lawn, grape stomping, sandcastle building, and a surf off. Add these exciting events with mild weather and great rates on accommodations and you have the perfect recipe for a memorable fall getaway. Here's just a taste of our fall featured events:
Sixth Annual Southport Wooden Boat Show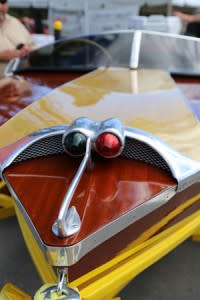 The Southport Wooden Boat Show offers a chance to admire wooden boats, and talk with those who are passionate about making and owning them. The event will feature a contest where judges will be awarding the outstanding boat in a variety of categories, "Nauti-kids" activities for the young sailors, and nautical and maritime demonstrations. Exhibits from the North Carolina Aquarium and The Ft. Fisher Underwater Archaeology Branch will be on display throughout the afternoon. There will also be a Seafood Chowder Cook-off featuring five teams competing to win cash prizes and the title of the 2015 "SWBS Chowder Champion."
North Carolina Oyster Festival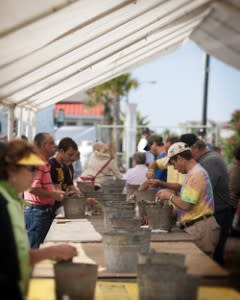 The biggest food event of the season is the 35th annual North Carolina Oyster Festival that transforms the streets of Ocean Isle Beach into an open-air walking district, and boasts the best local cuisine, arts, crafts and entertainment. An Oyster Shucking Contest features professionals competing for the state title, perhaps dreaming of the national, or even the World Championships in Galway, Ireland. Amateurs are welcome to try their luck at local recognition. An Oyster Stew Cook-off allows attendees to try and rate local chef's best recipes. More than 15 food and beverage vendors will be there offering everything from seafood and landlubber delights, to healthy or fun festival food.  Live music will be featured throughout the weekend.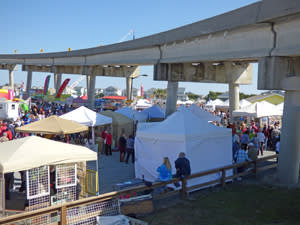 This two-day event kicks off with a parade down the Holden Beach causeway –  the one day of each year that locals and guests alike can enjoy the views of the Holden Beach Bridge on foot. Hundreds can enjoy taking pictures and absorbing the sights from the top of the bridge. A horseshoe tournament and sandcastle contest entertains the more competitive while kids can enjoy face painting, kite flying and more. The festival will also feature live music, arts and crafts and food vendors.
Check out our calendar of events for a full list of fun fall events!