as spring rounds the corner, and everyone is caught up in the madness happening on the basketball court, North Carolina's Brunswick Islands beckons both new and returning visitors to look for exciting activities and hidden treasures nestled within the Brunswick Islands. Here, you are the coach. Get off the bench and get involved in Marsh Madness at North Carolina's Brunswick Islands!
Kayak Through the Marsh
Go on a guided kayak tour through the marshes and waterways around the Brunswick Islands and check out the wildlife that calls the marsh home.  Take a trip to Bird Island, venture down the Intracoastal Waterway, or take a twilight tour to watch the sunset over the marsh.  Excursions are available for all experience levels and ages - including first timers - and guides provide a wealth of knowledge about local wildlife and history.  Or rent a kayak and head out on your own.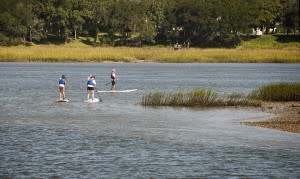 Paddle Your Way to Adventure
Visitors can also try their hand at stand-up paddle boarding. Take a break from the waves and paddle the Intracoastal Waterway, creeks or island canals. Outfitters will deliver and pick up any rentals directly to your condo or beach house. If you are new to the sport, sign up to take a lesson.
Catch a Meal
North Carolina's Brunswick Islands is a top hot spot for salt and freshwater fishing on the East Coast. Depending on the season, fishermen can find red drum, black drum, specked trout, sheepshead, flounder, redfish, shrimp and mullet in the marshes. You can also try your hand at a favorite family activity and go crabbing off a canal or waterway dock.
Spot a Bird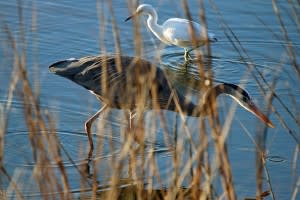 For bird enthusiasts, or visitors simply seeking to soak in nature's bounty, the marshes in North Carolina's Brunswick Islands are home to a multitude of bird species. Common sightings include great blue heron, little blue heron, green heron, great egrets, snowy egrets, clapper rail, white ibis, American oyster catchers and many more. There are eight sites in Brunswick County included in the North Carolina Birding Trail perfect for spotting the 330 bird species known to inhabit the various Brunswick County ecosystems.
Beat the buzzer, and don't miss Marsh Madness at North Carolina's Brunswick Islands.