Sun, sand and seafood simply go hand in hand, and there is no better place to snag a signature shrimp dish than North Carolina's Brunswick Islands. No trip to the Brunswick Islands is complete without some coastal cuisine, and our charming beach towns are brimming with tasty dining spots serving up innovative and scrumptious shrimp creations. Foodies looking to come out of their shell to savor a delicious dining experience can check out the below shrimp seeking guide to the Brunswick Islands.
1. North Shore Shrimp Taco (Oak Island)
The dining scene at North Carolina's Brunswick Islands is as vibrant as the collection of coastal communities themselves. Here not only will you find classic seafood dishes, but also flavors from around the globe. Kai-Joes on Oak Island is serving up North Shore Shrimp Tacos. This international fusion dish features grilled shrimp, Asian slaw and a special Thai chili sauce.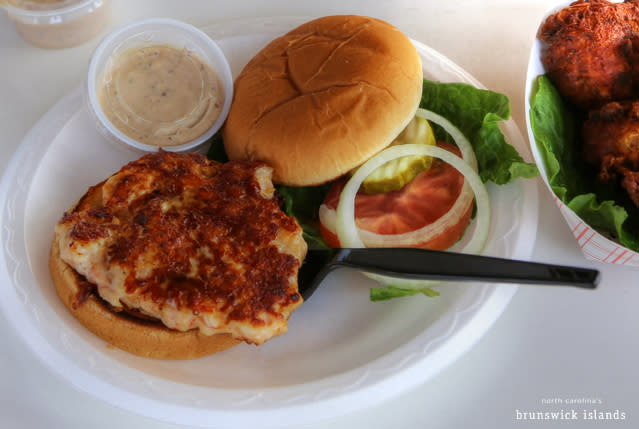 2. Grilled Shrimp Burger (Holden Beach)
For a fresh spin on an American classic, check out the Grilled Shrimp Burger at Provision Company on Holden Beach. This waterfront dining spot can be reached by land or boat and is a popular spot for families looking to enjoy fresh seafood and scenic views.
3. Shrimp Flatbread (Southport)
Stop by Fishy Fishy Café in Southport for a fun waterfront dining experience overlooking both the yacht basin and beautiful coastal marsh. Fishy Fish Café offers a variety of local seafood dishes including a Shrimp Flatbread appetizer. The baked flatbread features basil pesto, sun dried tomatoes, balsamic reduction, caramelized onions, parmesan and goat cheese to perfectly combine signature shrimp flavors and a taste of Italy.
4. Grilled Shrimp (Ocean Isle Beach)
While grilling is a popular preparation for shrimp, Jinks Creek in Ocean Isle Beach is adding their own flavorful flare to this method. Be sure to try their take on Grilled Shrimp featuring wild caught North Carolina shrimp that are garlic and herb marinated and served with charred pineapple and tomato salsa.
5. Cape Fear Shrimp & Grits (Leland)
Few things are more Southern than shrimp and grits, and few places do them as well as the Cape Fear Seafood Company. Swing by and be sure to order their take on this Southern staple complete with shrimp, applewood bacon, tomatoes, scallions and mushrooms in a low country cream sauce and served over cheese grits.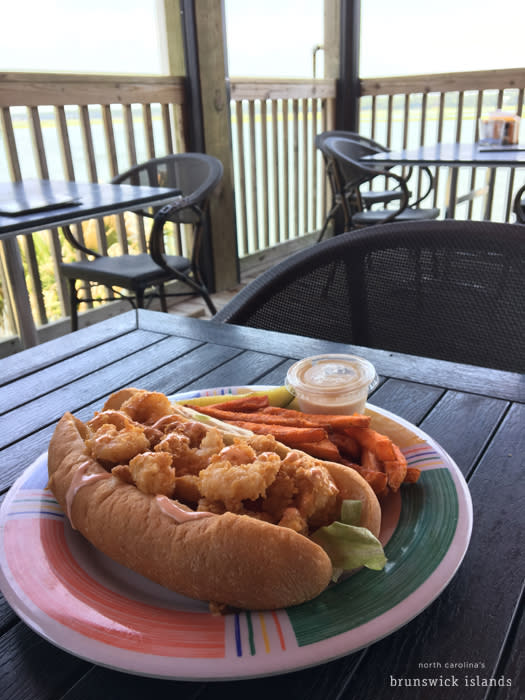 6. New Orleans Style Shrimp Po Boys (Shallotte)
For a taste of jazzy Bourbon Street in the Low Country, stop by Inlet View Bar & Grill in Shallotte. This family-owned spot serves up freshly caught shrimp, straight from the family-owned boats. One of the many tasty treats on the menu is the New Orleans Style Shrimp Po Boy served with lettuce, tomato and creole remoulade on a Leidenheimer New Orleans-style bread.
7. Shrimp Bucket (Sunset Beach)
A food tour of the Brunswick Islands would not be complete with a low country classic found at Crabby Oddwaters in Sunset Beach. Crabby Oddwaters offers guests the option of a Shrimp Bucket which includes one full pound of locally caught shrimp, corn, new potatoes, sausage and drawn butter. This dish is definitely one for sharing with the whole family!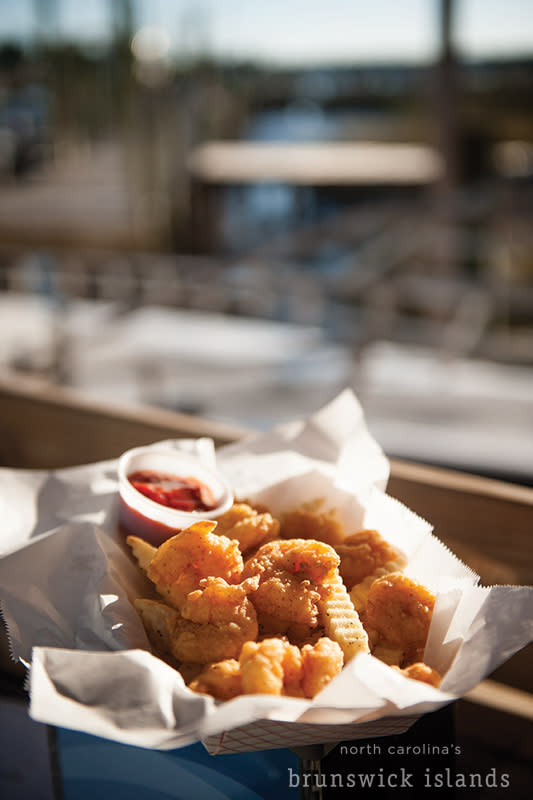 8. Calabash-Style Fried Shrimp (Calabash)
There can be no list of must try shrimp dishes that doesn't include Calabash-style fried shrimp. There is a reason the name of this picturesque fishing community may already evoke mental images of seafood dishes lightly breaded and fried to perfection. Visitors to the area are often surprised to learn that this popular and distinctive style of seafood is actually named after Calabash, NC.  To find dishes featuring infamous Calabash-style fried shrimp head to any of the delicious seafood restaurants in the town for an authentic Calabash dining experience.  As an added bonus, several of the town's seafood restaurants feature outdoor waterfront dining.
No matter what you are craving, there is a culinary experience for you at North Carolina's Brunswick Islands. For more information on dining in the Brunswick Islands, please visit www.NCBrunswick.com.