If you plan on being in North Carolina's Brunswick Islands for the Fourth of the July holiday week, you'll be in for a treat! The weather is warm, the days are long and sunny, and the sandy shores are awaiting your arrival and there is an abundance of festivities to celebrate all weekend-long.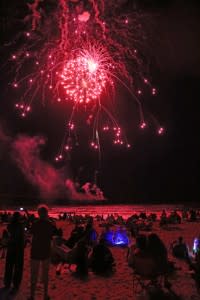 The North Carolina 4th of July Festival in Southport, founded over 200 years ago, is one of the most historic celebrations in America. More than 50,000 people gather to commemorate the nation's independence for several days full of family and fireworks. To kick off the week's festivities, the pre-festival fun starts early at Waterfront Park on Bay Street with a Freedom 5K and 1-mile fun run on June 25 at 8 a.m. All ages are invited to participate in this family event.
Head over to Oak Island on July 1 for a family Beach Day of relaxation and entertainment. The celebration includes endless activities like sand sculpture building, volleyball, corn hole, bocce ball, and horseshoe tournaments. The fun continues into the evening with live entertainment and anniversary fireworks. Beach Day begins at 8 a.m. and ends at 9 p.m. with fireworks at the Oak Island Pier.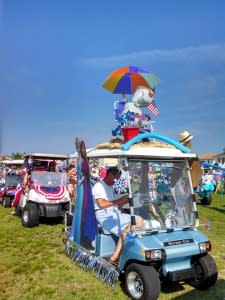 For Sunday evening celebrations on July 3, be sure to get a spot at Ocean Isle Beach by 9 p.m. as the community sets off fireworks from the pier.  Ocean Isle Beach's golf cart and bicycle parade starts at 10 a.m. on July 4th at the Museum of Carolina.
Attend Southport's daytime July 4th celebrations with North Carolina's most patriotic 4th of July Parade. Beginning at 11 a.m., the streets of Southport are filled with a variety of over 120 floats and cars, along with live music, concessions and a boat raffle. It's not Independence Day without fireworks, and Southport lights up the sky with the best of them! At 9 p.m., crowds line the waterfront and boats anchor in the harbor to watch the spectacular display to commemorate America's birthday.
Calabash will celebrate the 4th with fireworks on the riverfront and entertainment by Gary Lowder and the Smokin Hot Band. Festivities start at 6 p.m.
It's no wonder the islands are a popular spot for July 4th and all summer long, offering a number of events for locals and visitors to make the most out of their holiday weekend by the beach. Plan your stay around these events! For more information on festivals and activities for the Fourth of July in NC's Brunswick Islands, please visit our calendar of events.