"Good Night Mrs. Calabash, wherever you are…"
Fans of classic television and radio will remember star Jimmy Durante and this infamous phrase, but not many know its connection to North Carolina's Brunswick Islands.
Legend has it that while visiting Calabash, Durante was feeling a bit under the weather. A local restaurateur offered to fix him something to make him feel better. When she did, he told her he'd make her famous, and from that day forward, he closed each and every show with this tribute!
Fast forward to today and Mr. Durante would be right at home -  still delighted to find delectable shrimp, clams, fish and oysters coated in a light batter, quickly fried to lock in freshness and served up in very generous portions!  This is dining Calabash-style, and the reason the town has earned the title of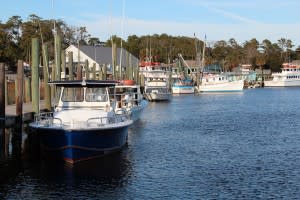 "Seafood Capital of the World!"  Restaurants from coast to coast have tried to replicate the style, but there is nothing like the experience of enjoying it in its home town of Calabash.
As you drive down to the docks that lin e the Calabash River, restaurant after restaurant beckons - family-owned and each holding their secret recipes tight! Enjoy a bucket of oysters, platter of Calabash shrimp, crab, flounder and even a full menu for land lubbers, if you must.
Check out this list of dining options that any foodie or seafood aficionado will appreciate:
Insider Tip: After a filling meal of local Calabash seafood, a stroll along the docks is the perfect way to walk off those generous portions.