In both spring and summer, and especially at North Carolina's Brunswick Islands, bird is indeed the word. The five barrier islands that make up NC's Brunswick Islands encompass a large network of bird sanctuaries. From the southernmost barrier island, where Sunset Beach stretches southwest to the protected nature preserve of Bird Island, to the community of Southport and the offshore rookeries on Battery Island, there is no shortage of incredible birding experiences in this area.

The White Ibis is one of the most visible and prolific species with their bright white plumage that contrast against a summer-blue sky and green foliage. According to an article featured by The National Audubon Society, nearly 10 percent of the North American population of White Ibis are supported by the six-acre Battery Island, with more than 5,000 nesting pairs documented in 2012. This tiny spit of land, located just a stone's throw off Southport's waterfront promenade, is also home for other wading, shore and song birds. These find refuge in the island's scrubby shrubs and trees making it the state's largest wading bird colony and a sanctuary protected by Audubon.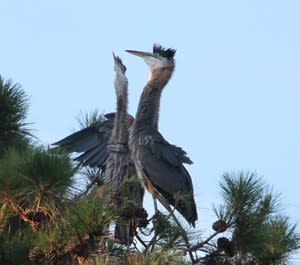 In addition, the more than 45 miles of undeveloped and under-developed shoreline and the pristine estuaries and salt marshes on the islands' flip-side shelter and sustain a wide variety of wading birds and shorebirds during nesting season.  American Oystercatchers, Black Skimmers, Plovers, Ibis, Egrets, and Herons are among the spring/summertime and year-round residents whose babies hatch here and start the next feathered generation.
Those of us who live here in the pristine coastal communities and barrier islands of North Carolina's Brunswick Islands understand perfectly why these birds choose to return here year after year to nest!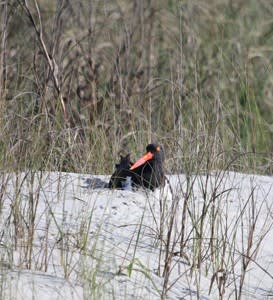 These uncrowded beaches attract plenty of birders and beachgoers too, and while the birds and their fledglings are an amazing site, Audubon provides the following tips to help us protect our nesting shorebirds.  By taking small simple actions to help protect their nesting habitat, you can help them raise the next generation.
Audubon's Tips to Share the Beach
Respect protected areas and signs. Birds, eggs, nests and chicks are well-camouflaged. Disturbance by people and their pets can cause birds to abandon their eggs and young.
Avoid disturbing groups of birds that are nesting or feeding. If the birds take flight, call loudly, or act agitated, it means you are too close.
Always keep your dog on a leash and away from the birds. Shorebirds perceive people and pets as predators.
Please don't leave trash or fishing line on the beach. Take your trash with you and place in an appropriate trash container. Trash attracts real predators such as gulls, crows, raccoons and foxes. Fishing line can entangle and kill birds.