if history and culture pique your interest, all you have to do is grab your walking shoes to escape and explore back through time!  North Carolina's Brunswick Islands' rich connection to the sea spans three centuries, including several wars and one double-crossed pirate!
Visit the Brunswick Town and Fort Anderson Historic Site and museum, a working archaeological dig that chronicles life during the Colonial and Civil Wars. Here, you can walk amidst one of the most pristine intact coastal fortifications in the United States to see the remains of a pre-Revolutionary town and Civil War fort on the banks of the Cape Fear River. Visit the ruins of captains' quarters, homes and businesses and walk through the remains of St. Philip's Anglican Church dating back to 1754.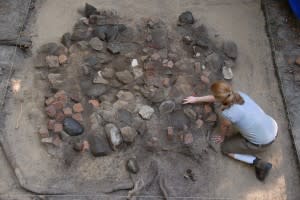 Insider Tip: Be sure to ask about current and upcoming digs.
From its days as a major U.S. seaport, the area around Southport is full of relics and remembrances of wars dating from the 1700s through WWII. You'll enjoy the featured nautical exhibits of pirate plunder and shipwrecks at NC Maritime Museum in Southport, or, for a different perspective, explore via water.
Paddle a kayak during a history tour from The Adventure Company or scuba dive to the wrecks themselves with the Scuba South Diving Company. German U-boats, blockade runners, Greek freighters, a navy sea-plane recovery ship and a British anti-submarine trawler are just a few of the underwater sights near Southport.
If you're looking for family-friendly educational activities, check out these fun places below:
Battleship NORTH CAROLINA

The Mainland

Brunswick Town Fort Anderson Historic Site

The Mainland

Civil War Sites of Significance

The Mainland

Fort Johnston – Southport Museum & Visitors Center

Southport

Ingram Planetarium

Sunset Beach

Museum of Coastal Carolina

Ocean Isle Beach

North Carolina Maritime Museum at Southport

Southport

Oak Island Lighthouse

Caswell Beach

Old Baldy Lighthouse and Smith Island Museum of History

Bald Head Island

Old Brunswick County Jail Museum

Southport

Saint Philip's Episcopal Church

Southport

Sunset Beach Swing Bridge & Museum

Sunset Beach