I scream, you scream, we all scream for… oysters! Oyster season is upon us here in North Carolina's Brunswick Islands! Serving up classic dishes like Oysters Rockefeller to steamer pots big enough for the whole family, there isn't a better place to kick off oyster season than in the Brunswick Islands!
From upscale waterfront restaurants to casual, family-friendly eateries to a major festival dedicated to these yummy mollusks, the options for oysters in North Carolina's Brunswick Islands are endless!
Check out these five outstanding oyster dishes found in the Brunswick Islands:
1. Pit Roasted Oysters – The Oyster Rock, Calabash
The Oyster Rock is known for many things but most notably is their oysters – I mean it is in the name! They offer a variety of oyster dishes but one of their most popular entrees is the Pit Roasted Oysters. Cooked over a custom outdoor pit, these oysters are served up plump, juicy and piping hot, ready to eat! As an added bonus The Oyster Rock is located on the banks of the Calabash River and has a beautiful outdoor seating section perfect for watching the fishing boats come in.
If you prefer your oysters fried, then stick around Calabash for some authentic Calabash seafood! This unique style of seafood comes lightly breaded and fried to perfection. Get your seafood prepared Calabash style whether it be oysters, shrimp, flounder, scallops or the catch of the day!
2. Steamer's Pot – Castaways Raw Bar and Grill, Holden Beach
Head on over to Castaways Raw Bar and Grill in Holden Beach for your next oyster feast! This local hot spot is home to many unique, mouthwatering dishes but none more so than the Steamer's Pot. Made to share, this southern staple consists of oysters, crab legs, clams, mussels, shrimp, corn-on-the-cob, sausages and red potatoes, all steamed together in a pot with Old Bay and herbs. Or, if you want a cooler option try the Seafood Tower! Served on ice, the Seafood Tower is built with little neck clams, mussels, peel-n-eat shrimp, oysters on the half shell and a half pound of crab legs.
3. Oysters Rockefeller – Jinks Creek Waterfront Grille, Ocean Isle Beach
Located on the Ocean Isle Beach Intracoastal Waterway, Jinks Creek Waterfront Grille is a favorite of locals and visitors alike. Nothing can beat the view of a sunset from their outdoor deck, except maybe their food! Jinks Creek serves up a variety of oyster dishes, but if you are looking for a coastal classic then try the Oysters Rockefeller- freshly shucked local oysters topped with pernod cream, chopped farm greens and bacon, oven broiled and served at the perfect steaming temperature!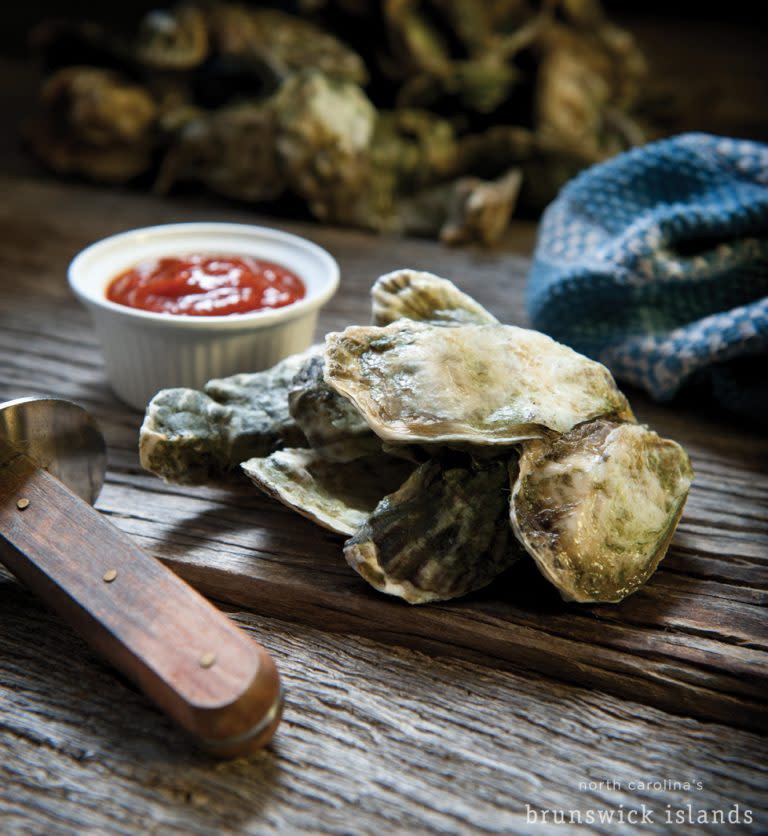 4. Oyster Toppings – Moore Street Oyster Bar, Southport
Located in what was a 19th century pharmacy in downtown Southport, the Moore Street Oyster Bar has been beautifully transformed into a lively, family-friendly restaurant. Depending on the season, Moore Street Oyster Bar offers a rotating variety of oysters brought in from all over the east coast. Once your oysters are picked then comes the difficult part… choosing the toppings! Moore Street Oyster Bar has six hot oyster dish toppings to choose from and three cold options. And for the oyster lovers 21 and over in the group, try a Moore Street Oyster Bar specialty… The Oyster Shooter! This shooter combines Tito's Vodka, lemon horseradish ice, house-made hot sauce and a raw oyster! This is one oyster stop you won't want to skip.
5. Beginner vs Pro Oyster Baskets – Swain Seafood Shack, Oak Island
As the largest of Brunswick County's barrier islands, Oak Island is home to many incredible dinning options, but one restaurant that comes to mind is the Swain Seafood Shack. With oyster baskets designed for the eager and the hungry, this is the family oyster lovers paradise! The Beginner Baskets serve up 6-7 ounces of fried oysters along side homemade shack chips, hush puppies and coleslaw, where as the Pro Baskets come with a hearty helping of 9-10 ounces of delicious fried oysters!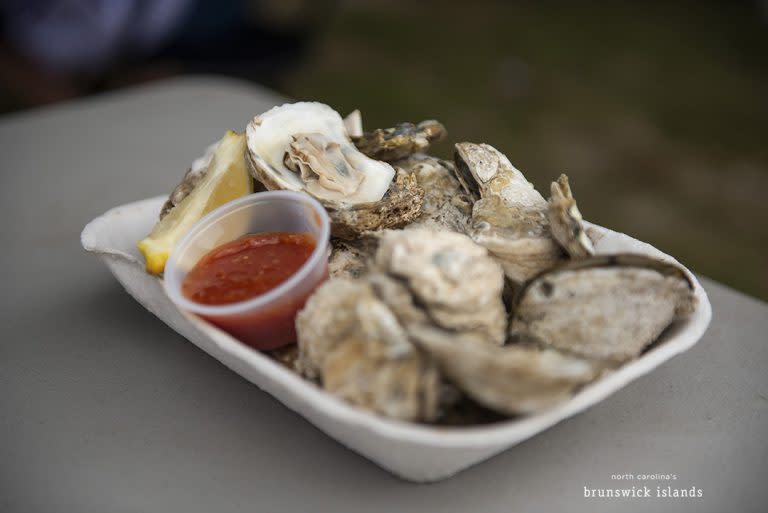 From classically coastal dishes to pit roasted oysters to uniquely topped oysters on the half shell, North Carolina's Brunswick Islands is serving up the best raw, steamed and fried oysters around! Not convinced? Well then check out the 40th Annual North Carolina Oyster Festival in Shallotte on October 16 – 17! This event features live entertainment, an arts and crafts show and a variety of delicious food options, including all the oysters you can eat. And for a little healthy competition, check out the oyster shucking contest, oyster eating contest or the oyster stew cook-off.
For more information on dinning, events and more in North Carolina's Brunswick Islands, please visit www.ncbrunswick.com.